It's easy to say trattoria. Milan, capital of the world for local foodies, has experienced in recent years an unprecedented transformation in the restaurants business.
While the osterie and the old Milanese addresses have closed to make room for prestigious (in some cases, more controversial) new fusion diners, it is also true that there are more and more chefs of haute cuisine who open their informal restaurants, street food and bistros here.
In the midst of such a rich offer, one has established itself and caused quite a stir in Italy and abroad in just a few years (it opened in 2015), enclosing in itself the concept of a contemporary trattoria from which many restaurateurs now draw inspiration.
So we interviewed Pietro Caroli and Diego Rossi, patron and chef/patron of Trippa (the most coveted address in Milan, in via Vasari 1) respectively.
How did you meet?
Diego: I was working in a starred restaurant in Cuneo, I was 26 and Pietro came to try that address with his wife. They had a food-blog and were among the first Milanese who came to visit us. From that day on we kept in touch and when I decided to move to Milan they were the first ones I contacted to help me to orient myself.
I made some consultations but immediately wanted to start my own business. I began to look for sponsors when Pietro, who at the time worked for an important international company, revealed his great desire to do something that really interested him, to devote himself to a project that really felt his.
Let's take a step back. How did you start your journey in the kitchen?
Pietro: Apart from the blog, I have experience in the kitchen. I am an enthusiast, certainly, but my job is to take care of "everything else": the administrative aspect, the bureaucracy, and so on and so forth.
Diego: After the hotel, he started working at the Oste Scuro in Verona, a fish restaurant of the highest quality. I was young and I began to really understand what a chef's sacrifices were: I had a girlfriend I never saw. I then tried to work in a catering business for a few months but it was immediately clear to me that it was not for me.
I went then to the Locanda delle Tamerici, in Liguria, then to the Bauer in Venice, where I began to really understand what work was like in a big brigade.
An important experience was that at the St. Hubertus of Norbert Niederkofler, three Michelin stars now, followed by the one at the Locanda Margon of Alfio Ghezzi, two Michelin stars.
Finally, I arrived with Juri Chiotti at the Delle Antiche Contrade restaurant in Cuneo, Luigi Taglienti had left; we took over and ― still very young ― confirmed the star for two years. When we left, they closed.
I worked here and there for a time; then, as I said, I came to Milan. Working in starred restaurants taught me above all the basics, not only of the kitchen but of being in the kitchen: things are managed by the brigade, how to clean stations as you go with the staff's flow.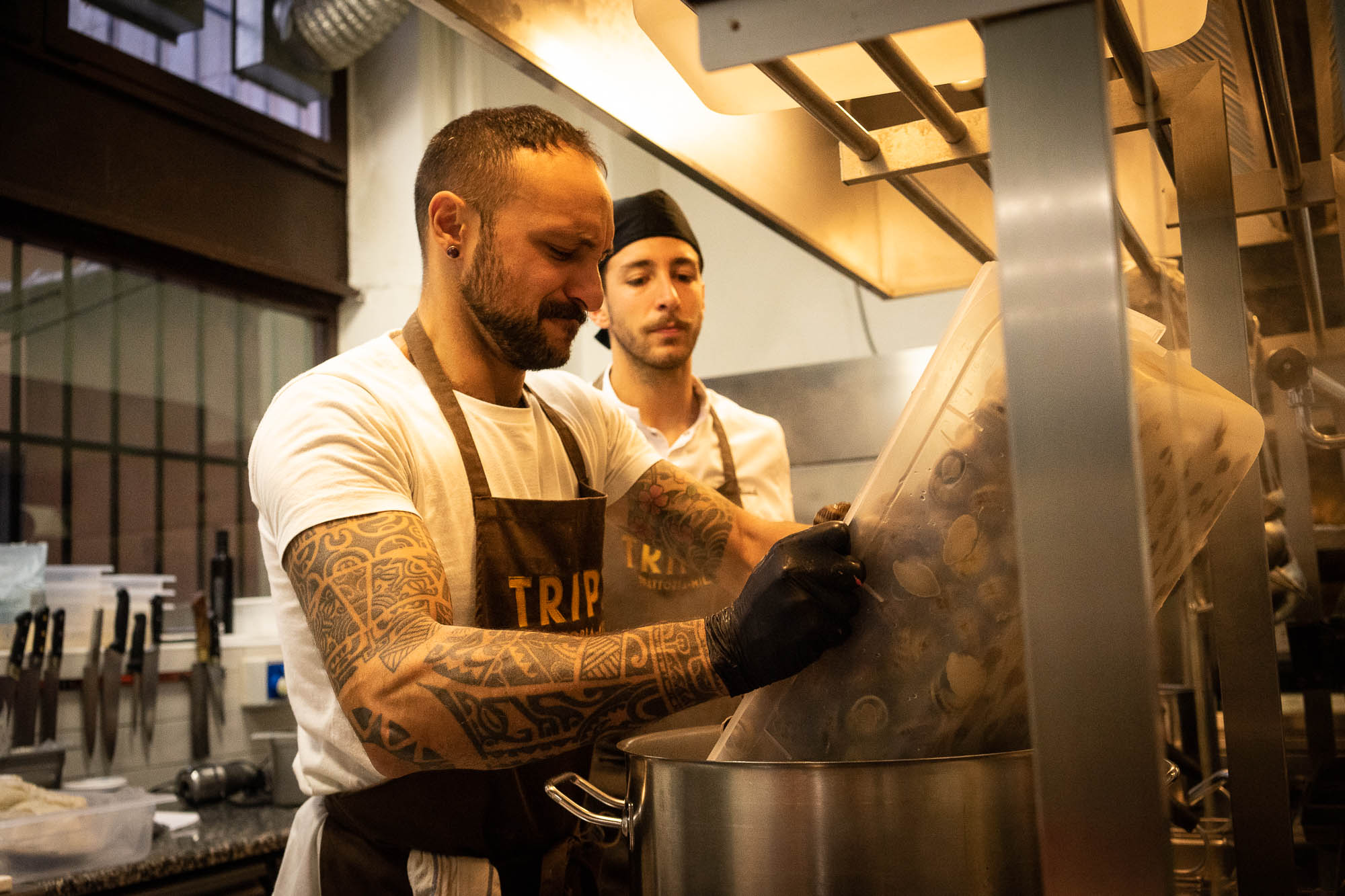 And how did you get to the idea of Trippa?
Diego: When it was time to take stock, the other potential sponsors stepped back and we went on alone anyway, knowing what risks and sacrifices would ensue.
On the idea of the restaurant, we found ourselves immediately, we never thought of haute cuisine. When I went out to eat, I did not feel anything anymore, everyone seemed too technical to me. The more you go for sophistry, the more your product's identity gets lost. In Milan, there were not many taverns, rather many imitations. The real trattoria makes a local cuisine, with almost all products of the area.
Why in the district of Porta Romana?
Pietro: I studied Economics at Bocconi University and as a student I went out around here very much. The first place we saw (we had almost concluded the negotiation with them) was exactly in the building where I lived during my years at university. It was a great period of change: I was about to become a father and I was changing jobs, I thought this was my destiny.
The negotiation was not successful and I went around the neighborhood and when I found this place, which had not been available for long, we liked immediately.
So no regrets?
Pietro: In retrospect, I think we had what you would call a great stroke of luck. When we arrived here it was all very different. Now the intersection between via Muratori and via Vasari, including the surrounding streets, has become a real district. Roads and sidewalks have been refurbished, there are many other new businesses. We are very happy.
Speaking of change: how have restaurants in Milan evolved over the last few years?
Diego: I think there have been significant changes, in Milan in the first place but in general throughout the catering world. I travel quite often, both for work and leisure, and I notice that the will to go back to a simple cuisine, to move away from the ambition of gourmet cuisine (which will remain in the restaurants of the big international names) is very strong.
Simplicity and a more friendly approach that does not only concern the proposal of food – there are many restaurateurs who have understood that it is necessary to invest in the quality of their own lives and of the staff today because the wellbeing that comes from these has repercussions on work. Shorter working hours, to start with.
Pietro: Somehow I think we, too, have played our part. Until a few years ago it seemed that restaurateurs were afraid to dare to head back towards a more "concrete" kitchen. Ours was a courageous but conscious choice, we were aware we wanted to do something borderline, risky, but the response was positive, immediate, and many followed us. The public rewarded us immediately, immediately appreciated the quinto quarto, as well as the poor cuts, the little-known bluefish.
Let me be clear, they rightly continue to open restaurants based on gourmet cuisine, but I think now there is more freedom to take risks, to use offal and everything that was previously frowned upon in the kitchen.
How does Trippa meet the concept of craftsmanship?
Diego: It's a fundamental aspect of our work: we not only make everything by hand, but it is our precise will not standardize anything. We improvise a lot: before dinner, a product arrives and we invent a dish, a menu.
Pietro: Everything is done here in our kitchen, from the most complex dishes to the jams for desserts. Improvisation, in its most positive sense, is one of our strengths. Every day there is something different; we obviously offer all courses, but it is difficult to eat the same thing here. Those who come to us do not come for a specific dish, but they "marry our philosophy" and are taken on a culinary journey.
And where is the Italian style mostly found in Trippa?
Pietro: Except for pepper and stockfish, which have become part of our culture and tradition for a very long time, all our products are Italian.
Diego: In the products we use, we do not want to set limits and it happens that Pietro can recommend some French or Slovenian wines, but otherwise we have a very "patriotic" offer. Not only in food: we have bitters, distillates, and vermouths that are sought after and very Italian.
How do you reconcile your curiosity and discover the world's cuisines with the offer in your restaurant?
Diego: I really love Japanese cuisine and other Asian countries. Knowing them helps me, directly or indirectly, to "enrich my baggage", be it a cooking technique or maybe a particular cut.
What relationship do you have with Milan?
Pietro: I've lived in this city for over eighteen years, about half my life. We are both grateful to the city of Milan for the opportunities and satisfaction that it has reserved for us and we show it by periodically by adding the town's iconic dishes (like the Milanese Risotto and the Busecca, the typical tripe with beans) on the menu.
Diego: Milan is a megaphone: if someone in Italy has something to say they say it here, then it arrives elsewhere. We are saying what we have to say.
Photographs of our interview by Silvia Pisani