Since 1854, Maglia has produced a wide range of handmade umbrellas from prestigious materials that are 100% made in Italy. The family history, now in its sixth generation, is truly rich in adventures and traditions. For example, each generation has a son named Francesco. And it's Francesco Maglia, the current owner of the company, whom we decided to meet for our crafts' column.
Hi Francesco, where does the passion for umbrellas come from?
My great-great-great-grandfather Francesco started this work; his mother came from Piemonte and he started working as a coalman, then as a woodcutter. His mother had relatives who owned an umbrella factory in Brescia, and in 1850 Francesco decided to work there as an apprentice.
In 1854, some years later, he bought a share of the factory and moved to Pavia. In 1876, the store moved to Milan, in Corso Genova. His son, my great ― great grandfather, had bought a house in Corso Genova, but only on paper, because it did not yet exist. On the other hand, the canals of the Navigli were still open and a stretch passed right through Conca del Naviglio.
Why did you move?
We chose to move purely for logistical reasons. In the last years we were there, our store on Corso Genova became inconvenient due to traffic and parking problems, especially for our customers and our suppliers. After 16 years, we decided to move to via Ripamonti.
You've had a strong family tradition for more than 150 years: why do you keep it going?
First of all, I would say we hold onto things out of great respect for my ancestors. The family tradition has been going strong for six generations, and, I must say, it's the drive that has guided us ― and that still guides us today ― it's the admiration for our heritage and for the first Francesco Maglia.
We have always believed in the importance of maintaining high-quality for this reason: I started working here 53 years ago, after my military service, when there were 141 umbrella-makers in the city.
Today there are 10 umbrella craftsmen, of which 80% import their products and the other 20% create a "made in Italy copy". Instead, we chose to maintain 95% of made in Italy: fabrics, knobs, raw materials are all from Italy. We owe it to our family history.
Who buys Maglia umbrellas?
The most loyal customers are the historic ones: Degande in Bruxelles, Beams in Tokyo, and others, especially in Northern Europe. Surely a mature type of clientele knows us above all, but I trust in the new generation and in a return to the culture of quality ― which Italy really needs.
Which foreign country is most interested in your umbrellas?
First of all, the United States, but we need to make a small premise: when we talk about the United States we are only talking about New York, where we actually work very well with 4 stores. Japan is an important country too, as well as China, a country that has recently has emerged.
Then, of course, Europe, which I travel around to visit my clients; for example, when I'm in London, I love going to James Smith & Sons Umbrella Shop which has been around since 1830 and sells only umbrellas. For me, it is the most beautiful store in the world.
Curiosity: which umbrella do you use?
I'll be honest: I prefer to get wet rather than buy an umbrella on the street! All jokes aside, I love classic umbrellas; I keep 2 or 3 of those in the car and about a dozen at home. I usually use a very large umbrella (I am 1,95 cm tall and have to cover myself somehow). I rarely use a telescopic umbrella (the pocket one).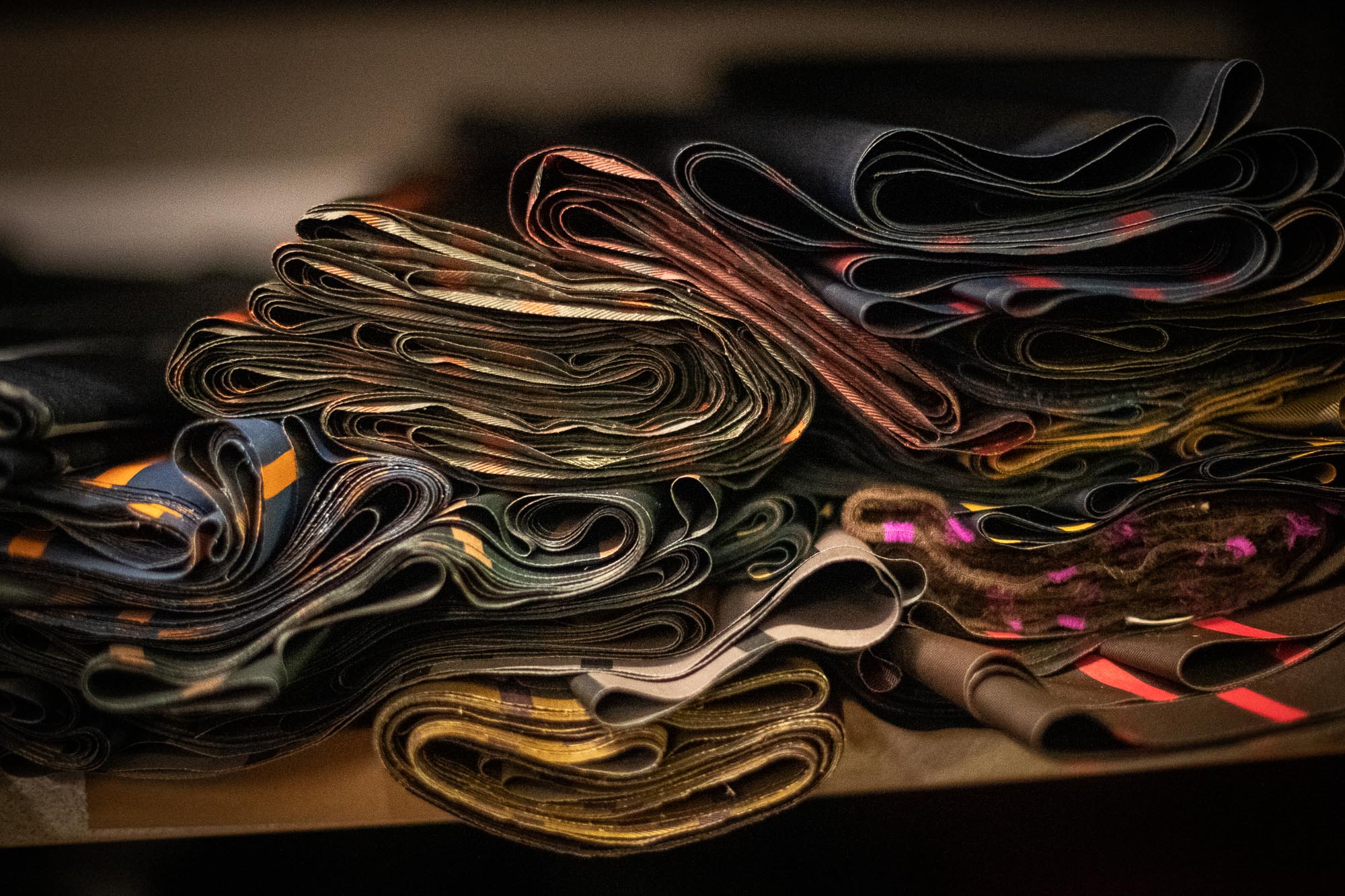 Who is the most prestigious customer that bought a Maglia?
Thirty years ago I was in Holland, in the Passage, when the Queen came in. Everyone stood up, she spoke to my client and she bought a Maglia umbrella, which she chose and ordered herself. Another time, in Brussels, one of my clients told me that the King had recently bought another one of our umbrellas.
These were very strong moments of pride for my entire family. I must also mention an actress who used an umbrella in her film: unfortunately, I do not remember the name, but I still remember the great emotion I felt when I recognized it.
Is it true that opening an umbrella at home brings bad luck (or at least this is what my grandmother always said)?
So many people believe that an umbrella should not be opened, but we have been producing umbrellas for 170 years: we open and close them every day and we are still here to tell the tale! Obviously, not so many people think this way: once, in Nice, I was showing a new collection to my client when I was told that I had to open the windows and the doors for superstition right away.
I think it's an incredible thing, also because, as my daughter-in-law says, in Buddhist art the umbrella symbolizes both prosperity and protection. There is no reason to be afraid.
Let's close our interview with craftsmanship: what would you like to say to a young person today?
I would say that a return to culture and to curiosity is needed. For example, since ties are used less and less these days, I have turned some of my old ones into bow ties because I didn't like the ones I found sold in stores.
Today, however, young people especially tend to be happy without a real creative challenge. It's a pity because in this world we need originality and quality and, unfortunately, brands are not always bearers of this virtue; sometimes people only pay for the brand and not for the product itself.
The truth is that everyone has their own job and no one should improvise as an expert ― as the Milanese saying goes: Ofelè fa el to mesté meaning "Leave the pastry to the master bakers."
Photography by Ludovico Bertè