We're sitting with one of the last Italy-based repairmen of photographic cameras ― one of those jobs that is slowly disappearing. In the Sarpi District in Milan, there's a man who has been repairing analog cameras ― even though sometimes, he works with digital too ― for Milanese people for sixty years.
For our interview column about crafts, 60 Minutes with, we went to Gian Luigi Carminati's tiny shop in Via Lomazzo 45 to hear the story behind this endangered job.
Hi Gian Luigi, how did you start working with cameras?
I started working with cameras because I wasn't good in school. Plus, I loved working with my hands. You need a lot of precision and patience ― especially with little cameras. I'm still very happy about my choice.
How did you make up your mind to open your own shop after military service?
Before the military service, I was working at Zeiss ― a big German company for optical, mechanical, and electronic products. But, once back home, I felt it was the right time for my next big step.
So, that's when our business started. The other two partners and myself ―Sergio Saccani and my brother ― opened a shop. We haven't always been based here actually: the first two years, we were on the other side of the street, in the same district though. And now, after almost sixty years, I'm working by myself.
How your customers have changed over the years?
In the beginning, we worked with other companies: they gave assignments and looked for new customers. For this reason, the area in which the shop was situated wasn't so important. Working with 10 or so companies was definitely enough to keep us going. Today everything has changed but, luckily, I'm still well-known in the city and customers come looking for me.
I mainly work with young people, who were born when the digital era was already happening but still discovered film. Back to the past. They're super conscious about analog cameras. Some of them come and ask for expired film rolls because they love the uniqueness of the shots ― you never know what your photo is going to look like.
You fix cameras. Do you sell them as well?
I was born and remain a fixer. But, surely, I had to change something during my lifetime. Given the fact that collectors go crazy with analog cameras, when I have rare cameras here in the shop, I'm always tempted to sell them.
On the internet, there's a pretty big market of spare parts, especially among the youth. They first research online and then come to ask me for what they need. They're very aware; sometimes they even know more than me.
What camera have you worked the most with?
Without a doubt, 35mm. It revolutionized photography because you could capture thirty-five photos without changing the roll. It still is today the film camera I see the most.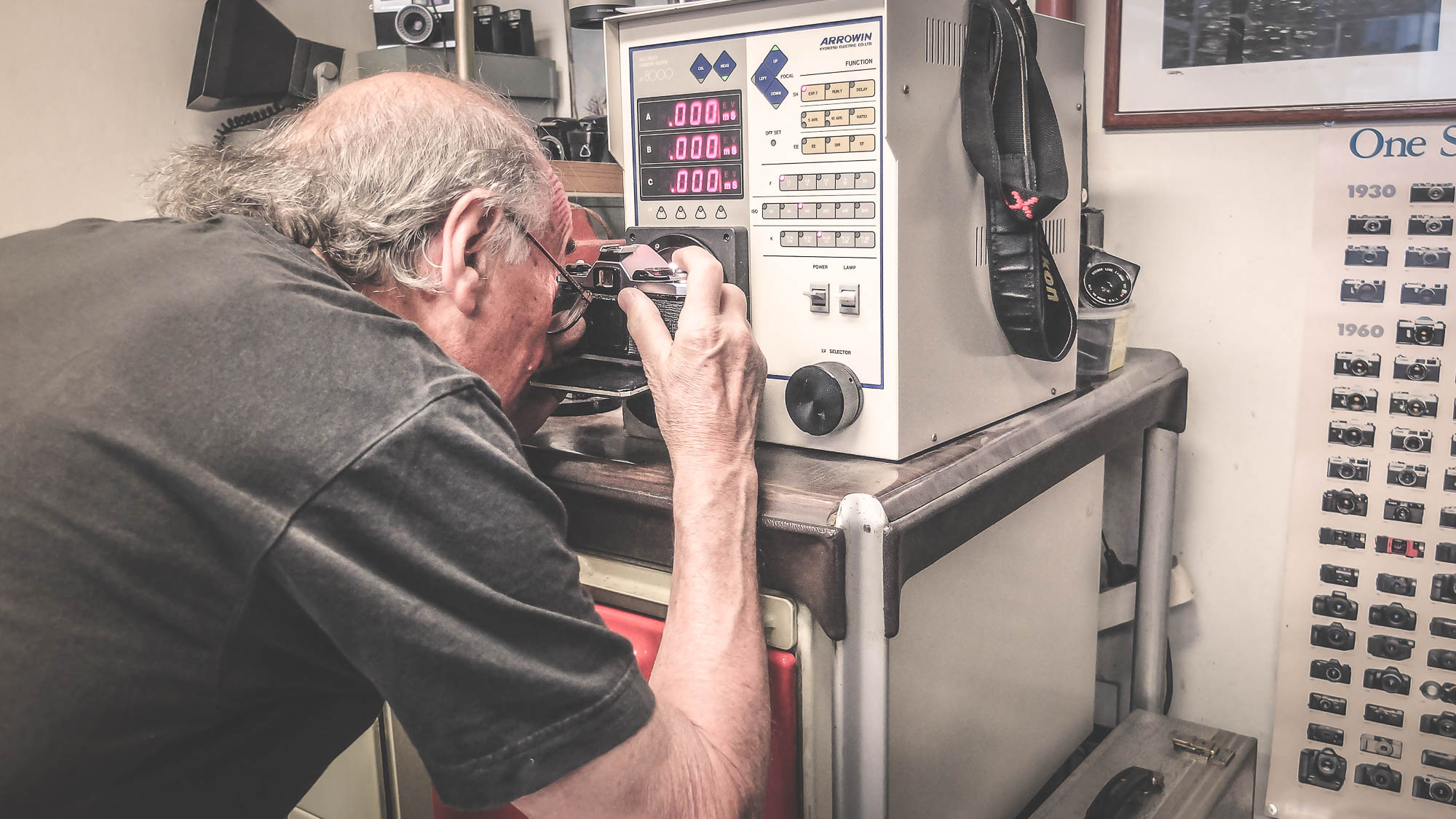 In the 60 years of owning this shop, how has your job changed?
A lot has gradually changed. The companies in the sector always come out with new systems and cameras to satisfy the people. For example: loading the camera was too hard? They invented Instamatic.
Of course, digital was a revolution, but I'm still working a lot with film. The new cameras are very good because of the accurate lenses.
Tell us a story about one client in particular who stands out in your memory.
I have a pleasant memory of Walter Bonatti's crew ―the famous mountaineer and reporter from the 1960s/70s― when I fixed his cameras before his expedition for the South Pole in 1974.
Through almost sixty years of this, I have so many stories to tell. Once, an old man stopped by to look at a little camera in my display window. He entered so shyly: he asked me to pack it with a lot of paper so his wife wouldn't realize his new purchase. Otherwise, she would have been mad at him.
He was a collector with a full shelf of cameras; his wife wasn't happy about it. In the end, I didn't sell it to him because I didn't want them to fight forever.
Will there be someone able to do your job in the future?
I work by myself today. I'm way too old to teach, and looking at how jobs are structured now it's quite tough. Back in the day, you started working in the local company, specializing in one thing and then you repeated it many times. After a while, you learned how to do it and how to be fast.
Now? Everyday there's a new assignment coming in, and there isn't enough time to learn properly anymore. There's no space for a lot of practice.
The one thing I suggest to the next generations: when a boy shows interest in this job, go to a flea market and buy all the cameras he can find. Even if it's in bad condition. Then, go home, take it apart, and put all the pieces together again. That's the game.
Photos by Velasca