Be aware: tattooing isn't just a job; it's an art. With this in mind, we thought to meet the artisan Gianmaurizio Fercioni, an Italian and old-fashioned tattooer based in Milan. He's probably the most famous one in Italy and he opened his first tattoo studio in Milan. Gianmaurizio really is a unique figure: he represents both the rebellious dandy, who has explored the whole world and the wise skin artist who respects the deeper meaning of his tattoos and tattooing in general.
For all of these reasons, Fercioni has tattooed all kinds of people: actresses and singers (such as Brigitte Nielsen and Eros Ramazzotti), doctors and lawyers, models and historical figures like Winston Churchill.
Hi Gianmaurizio, how did you get started as a tattoo artist?
My passion for tattoos was born out of curiosity and love for the art. This passion was not immediately understood 50 or 40 years ago. Also, I came from a very "good" family in Milan. My mother belonged to a noble Florentine family.
It's easy to understand how my choice to roam around Europe, learning the craft from the great masters, was judged as a very subversive decision. Anyway, things have changed over the years but I still remember when, about ten years ago, I was at a family lunch, and one of my cousins decided to change seats at the table when I showed some of my tattoos on my arm.
Where did you go to learn this art?
Actually, I'm a lucky man: I studied first at Brera High School and then at Brera Academy, where I approached the drawing technique in a very structured way.
Then, I had several experiences abroad: first in Hamburg with Herbert Hoffman ― a great teacher who had already tattooed in Hamburg since before the war ― then in Marseille with various professionals. In 1970, I decided to open the first tattoo studio in Italy, in my home city.
In those years, tattoos abroad were more liberalized and at the same time, there was a more polite approach, less superficial.
How did you make contact with Europeans masters?
With great determination, that's for sure. In that period, the connections between tattoo artists were very difficult indeed. There wasn't an Internet or WhatsApp, etc. Regular people needed great passion and tenacity to get in touch with the masters.
What's happening in the tattoos world today?
Unfortunately, a lot of creativity has been lost: fashion and football players have certainly changed it somewhat. In short: many years ago tattoos had more sense, or rather, it had any sense at all.
I think that now tattoos have lost their strength and their energy. An example? Until a few years ago, the tattoo's design and its shape could be seen and understood even from a certain distance away.
Now, more and more often, I see many tattoos full of colors, that are smoky and less defined. I always say ― and I learned from the great masters ― that a tattoo must be "solid," very definite.
Has the role of the tattoo artist changed?
Definitely. Now the tattoo artists have lost their original function: bringing out, on the skin, what was already there in the person's soul, hewn by their own imagination. It is a strong statement, I know, but it reminds me a little of Michelangelo, his ability to see the creation already present under the marble. Engraving, for him, meant bringing out the creation, to the light. That was his magic.
Did you find any tattoos harder than others?
Yes, and although it may seem a paradox, the most difficult tattoos are the most classic too because they're made with clean lines. The tattoo artist's ability can really emerge, at least we hope, from their precision. I will never get tired of saying it: before knowing how to tattoo, it is important to know how to draw by hand.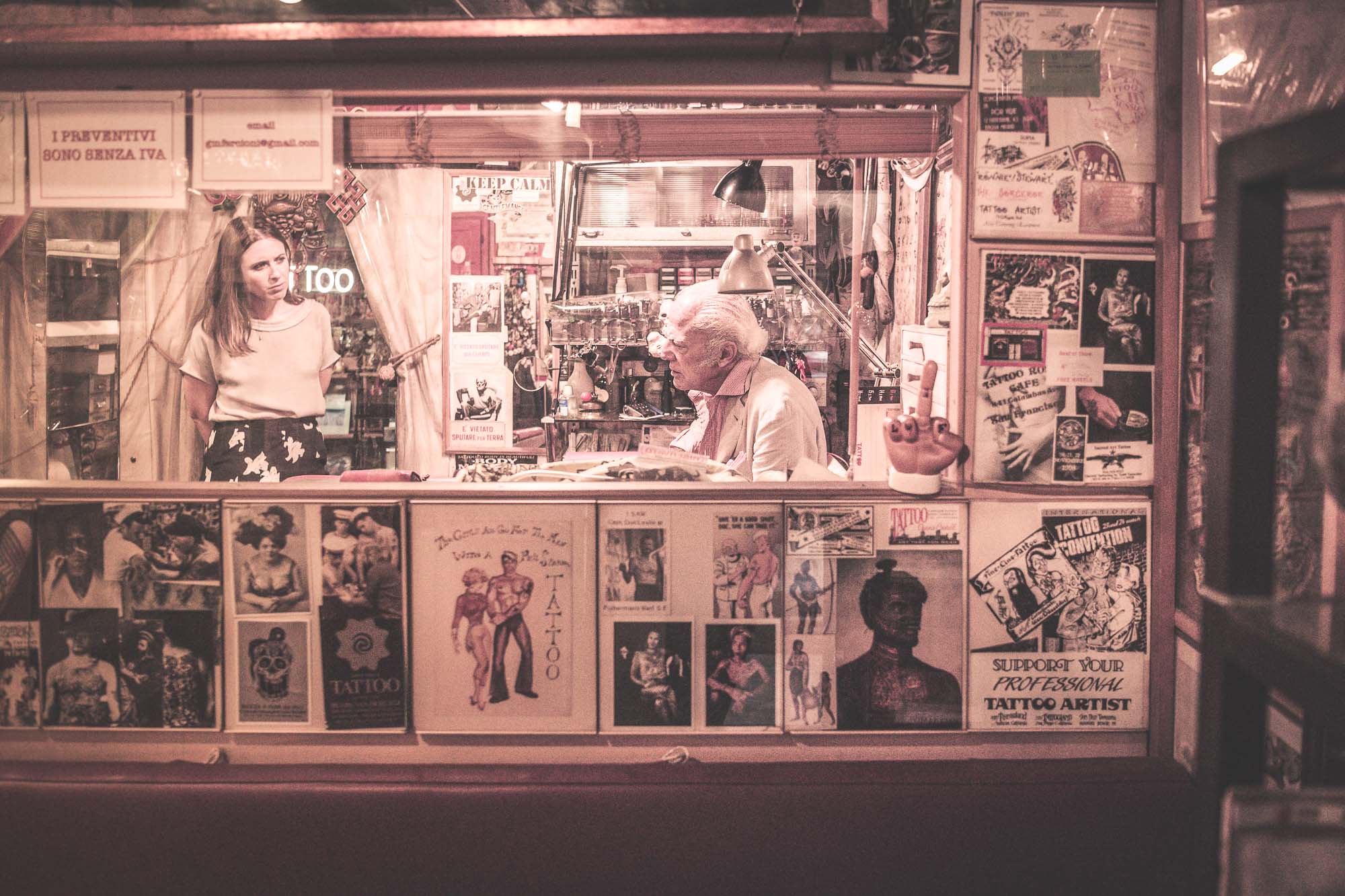 Are there any parts of the body you don't tattoo?
Sure: I never tattoo necks, hands, feet, and faces. I think it's too easy to regret later, and I don't want to be the cause of that. Above all, a young boy might encounter difficulties at work if he had his hands tattooed.
He may not think about it but I do, because there are (unfortunately) still many people who have a strange problem with tattoos, especially in social situations.
Honestly, I don't agree with this prejudice, but as a professional, I have to accept it. Above all, I have to "protect" my clients. That means saying no sometimes, even though it's unpleasant to do so.
Do you think that your 'code of ethics' has damaged you or served you well over years?
I firmly believe that my code of ethics has repaid both me and the other "elders" masters who have followed it, and who still follow it. Also, if I see a hesitant client, I don't hesitate to refuse to do the tattoo, because I don't want a dissatisfied customer, who will carry this tattoo on his skin forever, even though he's not fully convinced about it.
It's pointless. I was also thanked by some people who I had refused to tattoo, many years later. That's actually pretty satisfying.
Why do they say you need have an odd number of tattoos?
This is only an old superstition because in the past they used to say Every tattoo is a lost customer, especially in the seaports, when the sailors left and didn't always return.
This "trick" was born from an economic need, so the tattoo artists asked customers how many tattoos they had: any number, even or odd, it was not good. Then the tattoo artist proposed to make another one. More tattoos equals more work, so to speak.
Do you believe that there are substantial differences between tattoos in Italy and abroad?
Definitely. I believe that abroad the tattoo world, and the tattoo profession, is still seen and experienced with greater seriousness. I give an example on all: Japanese artists who decide to work in this field, never touch a customer for six years, but work only with the colors, becoming familiar with the different needles etc.
As I like to say, they pay their dues and they learn the profession calmly, in the field. In Italy, especially among young people, I see, with regret, more exhibitionism, and superficiality.
Do you believe that, in spite of everything, it's still possible to talk about tattoo art?
I think so; that's why I always say that people must trust those tattoo artists who work in a "free entry" studio, one where you can have a look around. A serious tattoo artist should be sure enough an artist, that he's not afraid to show his works, leaving the customer free to choose.
In my studio, for example, you can enter freely, and it has to be like this. Tattooing is a very popular trend indeed, and this is why people should be free to see the "gallery" of every tattoo artist.
To answer your question more precisely, I feel like a craftsman in the true world's sense: my drawings become art, only if my clients say so.
Photos by our Ludovico Bertè