Thanks to their talent, their work, and their songs, some performers become part of their country's cultural heritage. One from Italy? Domenico Modugno, who left a strong imprint on Italian culture and whose songs enjoyed such success that they reached beyond the national borders, where Italy is known especially for spaghetti, pizza, and good music.
"People abroad recognize Italy in the lyrics to 'Nel blu dipinto di blu', which is the most famous Italian song in the world. Some say that this is the ultimate Italian song, second only to the national anthem."
Singer-songwriter, actor, author, poet, director, a charismatic voice with a great interpretive force: these sum up "mister Volare"'s great personality; he would have turned ninety-one this year.
Short, dark hair, the hint of a mustache, a passionate look, an elegant suit, arms open as if hugging the air when he sang, Modugno is remembered for his refinement mixed with his warm Mediterranean nature.
Polignano a mare, his birthplace, decided to honor him with a suggestive statue in the city center: coupled with his entire figure in a "singing pose", it seems to portray his soul.
Visited for ten years by many a fan and enthusiast, "Mimmo"'s statue (people called him by his nickname) faces the city and not sea because it represents the artist's reconciliation with his citizenship.
Domenico Modugno warmed Italian hearts with his voice (think of the notes that shaped Meraviglioso in 1968); thanks to his extraordinary interpretive ability, he "touched" us (let's remember Dio, come ti amo in 1966) and made us proud of being Italian with his unique enthusiasm (as with Nel blu dipinto di Blu of 1958).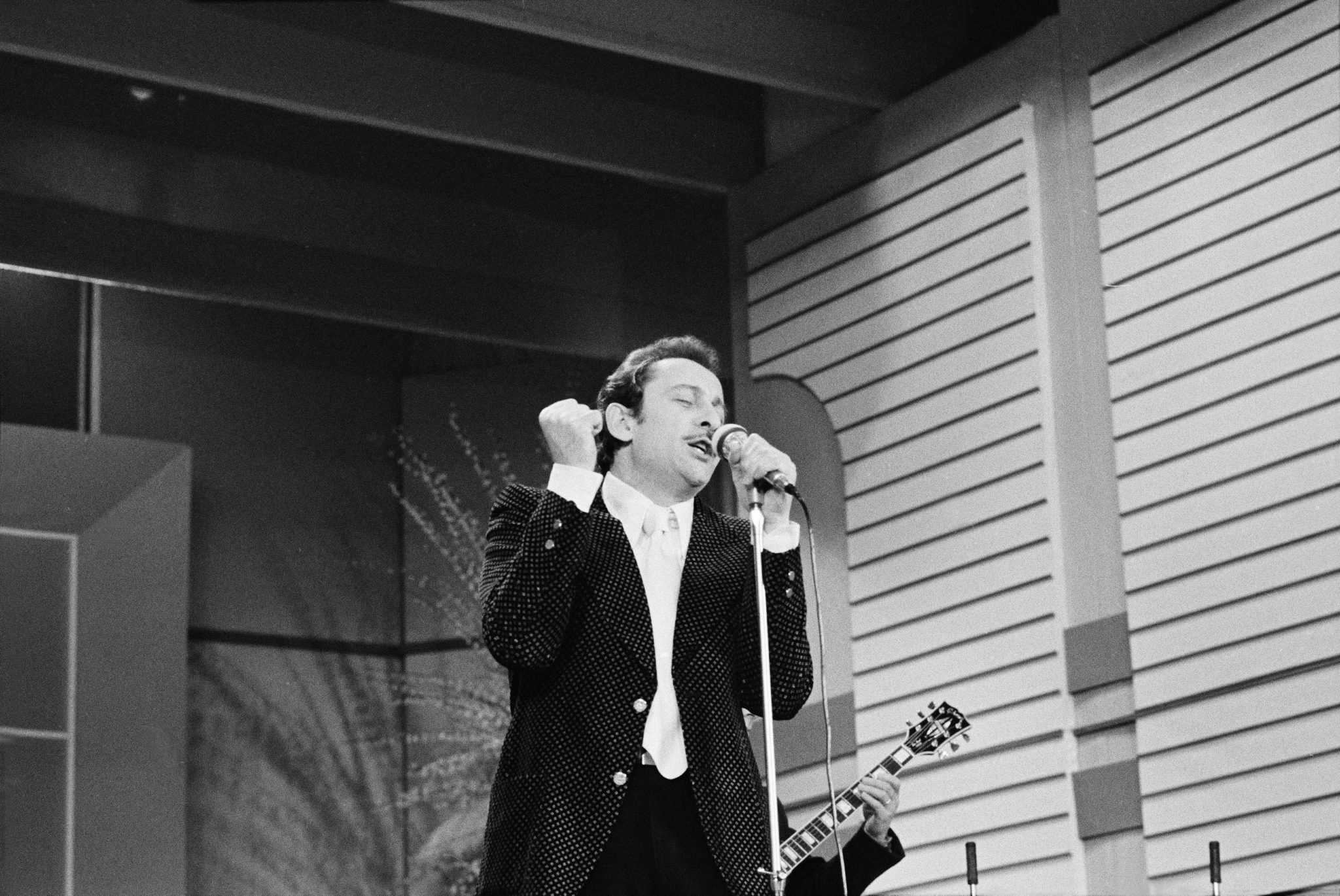 Who was Modugno? A sunny, simple but also a very strong man who, despite his huge success, never denied his popular roots. An artist, a pivotal figure for all those who work in music to this day, to the extent that some believe there is a "before Modugno" and an "after Modugno" in Italian popular music.
As far as numbers can go, Modugno wrote two hundred and thirty songs, performed in forty-five film and was on stage in thirteen plays.
Moreover, he was the first singer-songwriter to compete in the Sanremo Festival ― and won it four times, the first time with 'Nel blu dipinto di blu' which sold eight hundred thousand copies in Italy and over twenty-two million around the world.
Critics were evermore enthusiastic: "Modugno proved that audiences can appreciate a well sung, beautiful song and that two serious and experienced singers like him and Johnny Dorelli had the opportunity to beat artificial and contrived stars, with millions in the bank and tears in the tissue."
A song is not just a song, there is more than "meets the ear": to understand the cultural impact the Apulian artist had, just think that Salvatore Quasimodo allowed two his poems to be set to music in 'Ora che sale il giorno' and in 'Morte Chitarre', while Pier Paolo Pasolini wrote the "lyrics" for 'Che cosa sono le nuvole' and called Modugno himself to sing the song written by Ennio Morricone for the opening titles of 'Uccellacci e uccellini.'
Polignano marks the beginning (his birth), but also the end of Modugno's lucky career. On 26 August 1993, the Apulian town hosted his last, much-applauded concert after a nine-year-long ordeal following a stroke he had had in 1984 in the Mediaset studios in Cologno Monzese (Milan).
Respect and love for Modugno come from the public, poets, colleagues, artists but also from his sons Marco, Massimo and Marcello and his wife, the Italian former actress Franca Gandolfi, who called Domenico "a big rascal" and revealed how his masterpiece was born:
"That night a big storm broke out over Rome. Mimmo was playing the piano in our house when suddenly the window burst open and the wind sent scraps of paper flying around the room. Enraptured, Mimmo started singing: 'Volare, oh oh' and cried: 'That's what we need.'"
Opening photo by Romano Gentile/A3/Contrasto and in-text photos by Ferdinando Scianna, Gelmi/RCS/Contrasto and TMDB/LongTake