The international Mugello Circuit is a race track located in Scarperia e San Pietro, in the metropolitan area around Florence. Built in 1972, it has a particular importance to the Italian people for two reasons. Firstly because, since 1994, it's been the official host of the Italian Grand Prix; and secondly, the Circuit is owned by Ferrari, who bought it in 1988.
The Mugello Circuit was built to be a home for motorsport, both cars, and motorcycles, following the decision to abandon Mugello road racing due to safety concerns after two lethal accidents occurred in just three years.
Road races had been held since 1914 and they were notorious for their difficulty. The 1920 race was the first to be named the Mugello Circuit.
The circuit was made by the Florence Automobile Club (Automobile Club Firenze) and their track, already mythical, has some critical details that make it unique and exceptionally challenging.
The gradients are so specific and severe, resulting in ideal conditions for serious tests and trials. It's for this reason that Ferrari and Formula 1 use the circuit to test their cars.
"For me it was a pleasure to return to drive here. The first time was in 2001 when I did a test with Minardi. The track is spectacular and it will be amazing to race here again," Fernando Alonso.
In 2012 the circuit hosted three days of aggregate season tests, and at the end, several drivers expressed their appreciation for the Tuscan circuit.
"Speaking of satisfaction, 10 dry laps at Mugello are worth 1000 at Abu Dhabi," says Mark Webber.
The race track has never changed so much as one of its 5,245 meters, remaining completely unaltered over the years, in spite of the various modernization adjustments to its surrounding structure that it had to undergo.
The most peculiar feature of this track is the 1 kilometer uphill straight that leads to the finishing line. In this section, motors can release their full potential, which has lead to a number of top-speed records, the latest registered by Andrea Iannone at 354.9 km/h.
"It's really a spectacular circuit, very fast, with beautiful turns. And it's a pity that there isn't a race here," tells Nico Rosberg.
There are several bends around the final straight; fifteen fast, blind turns characterized by some changes in slope. These can be extremely demanding for the riders.
The first one is San Donato's turn. It's placed at the end of the final straight and so requires a very careful approach. Casanova-Savelli's turn, which goes right to left, should also be singled out for its importance, and it leads to two long, fast turns named Arrabbiata 1 and Arrabbiata 2.
To ensure they return to the first part of the track facing correctly, it's very important to get a proper chronometric feedback. Valentino Rossi knows all about it.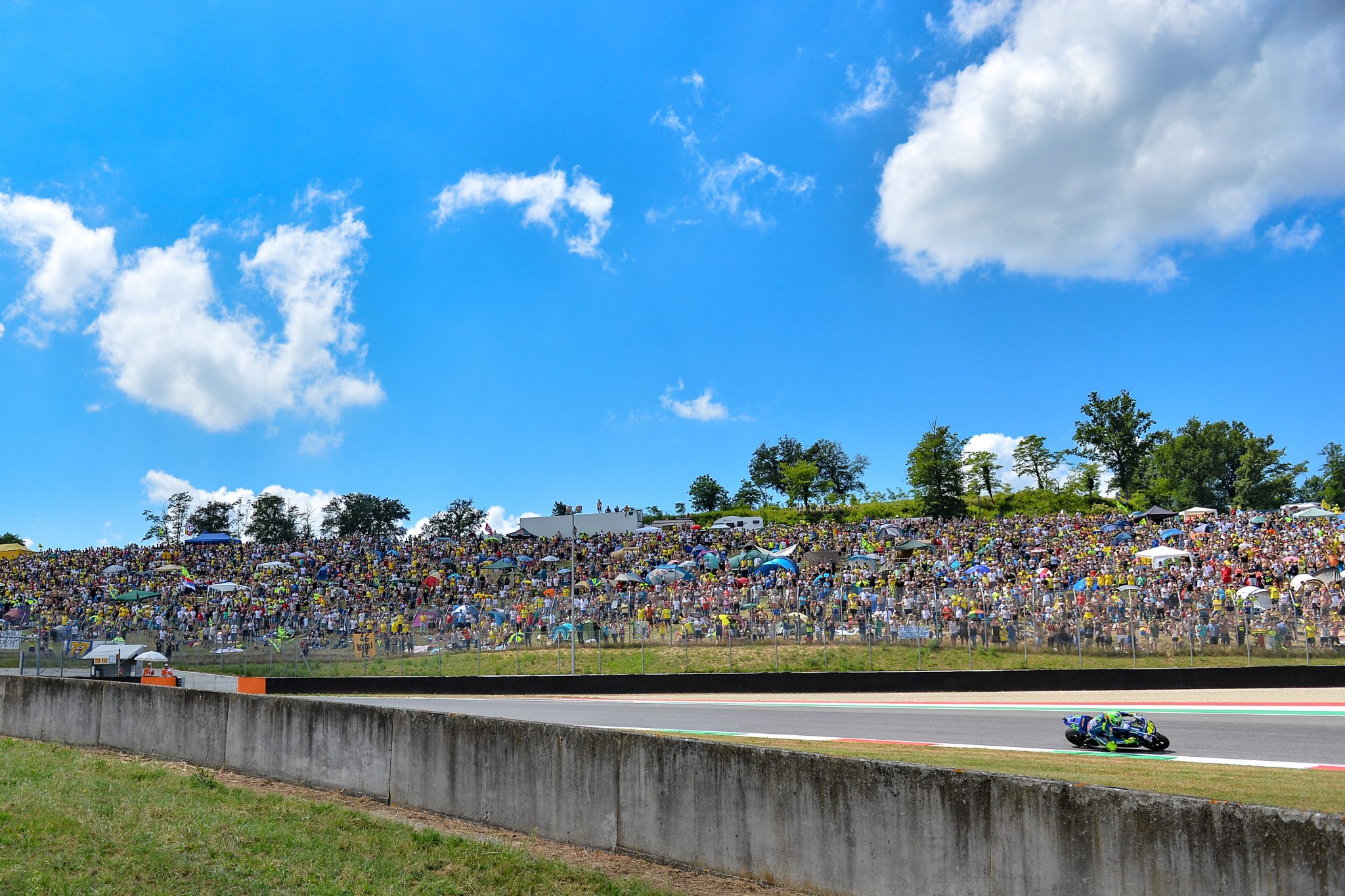 We haven't chosen our guide to the circuit without careful consideration. Rossi, one of the most successful riders of all time, not to mention one of the most successful Italians in Motorsport, has got a special relationship with the track that hosts the Italian Grand Prix.
Number 46 has aggregated seven wins in a row at the Mugello from 2002 to 2008, making some unforgettable scenes. The 2003 championship saw an all Italian podium with Rossi, Capirossi and Biaggi taking first second and third.
Better still, in 2005 four Italian riders ended up in the top four spots, adding Melandri to the riders above.A lot of important and valuable wins. Rossi's win in 2006, achieved in the last lap against Capirossi is celebrated with a video on Moto Gp channel.
Capirossi started badly but he carried out a mad comeback from 8th to 1st place. The Doctor didn't agree and forced his Yamaha until the last corner. He won the race with a gap of only 6 tenths.
In Tuscany, Rossi also obtained two wins in the 250cc and 125cc. The sentiment between Valentino and this track is evident., as witnesses to his celebratory gag with the local police will attest. Rossi has further expressed this feeling by wearing a different helmet designed with a special theme every time he runs a race at the Mugello.
Andrea Dovizioso, who won the 2017 race, confirms Mugello is characterized by a unique air. After the race he said:
"I wanted this win at all costs, because winning here at Mugello is the best for an Italian rider."
An Italian riding an Italian bike at the Italian Gp; not a bad day. But Mugello's circuit is famous for more than just bike races; its seen its fair share of cars too. The record lap in Formula 3000 belongs to Alex Zanardi, who won here in 1991. Surely, a treasured memory for an inspiring driver. A hero in everyday life, who got back to riding at Mugello in 2016. winning race-2 of the Italian Gran Turismo championship.
"What an emotion to ride at Mugello, it's the most beautiful circuit in the world."
Official photos of the Circuit by Fotoeventi.com Motor & Sport Images Agency