Milan is exactly the city you were expecting. You get off the train in Centrale, Milan's Central Station, and you simply recognize the scene. You saw it in pictures, videos, and posters so many times that it seems like you have already been there.
Alive and full of excitement, filled with brilliant people covered by black mid-season coats, khaki rolled trousers, bold haircuts, and statement shoes that express personality and confidence. A (pro)active city, a creative city.
There is a hidden side of Milan you may not know. Something you can maybe sense, but not actually see. A sense of present and future but, at the same time, glimmers of a light beam from a not so distant past.
Like Japanese kanji (writing system) teaches us, a word means more than just the identification of an object: it is a feeling, an exact moment of self, something hidden deep down inside our hearts.
Milan's past is a komorebi. Like the sunlight that breaks through the trees (this is the Japanese meaning of the word), Milan's history walks along Corso Vittorio Emanuele II, peeking out from the sampietrini stones, playing hide and seek with the Duomo's spires, and shining in people's eyes when they are distracted.
"Keith and Elio meet one night in 1984 in San Babila Square. The air is crisp and free."
No obligations, no judgments. Only Milan and a puff of breath before pulling the gate up. Elio shows Keith those white walls, that are awaiting a confident hand to fix them up for good. A blank page ready to be written.
Elio is about to give Keith the keys of his famous store to turn it into a place that speaks its mind and inspires people. A work of art itself. And Keith is about to tell a story. His story, the story of human beings, is the story of the whole world, Tuttomondo (referring to his mural in Pisa). Like the story of Milan: the world we are seeing and the one we cannot see (yet).
Keith and Elio's story is about a friendship not built from the daily routine, but from a shared art-based research of expression and their ongoing "love for beauty." Oliviero Toscani reiterated this during the funeral of his friend Elio, who passed away recently.
And it is also the story of a city that during the 80s established the cultural foundations of an artistic avant-garde that you can still see today, in different and unexpected shapes.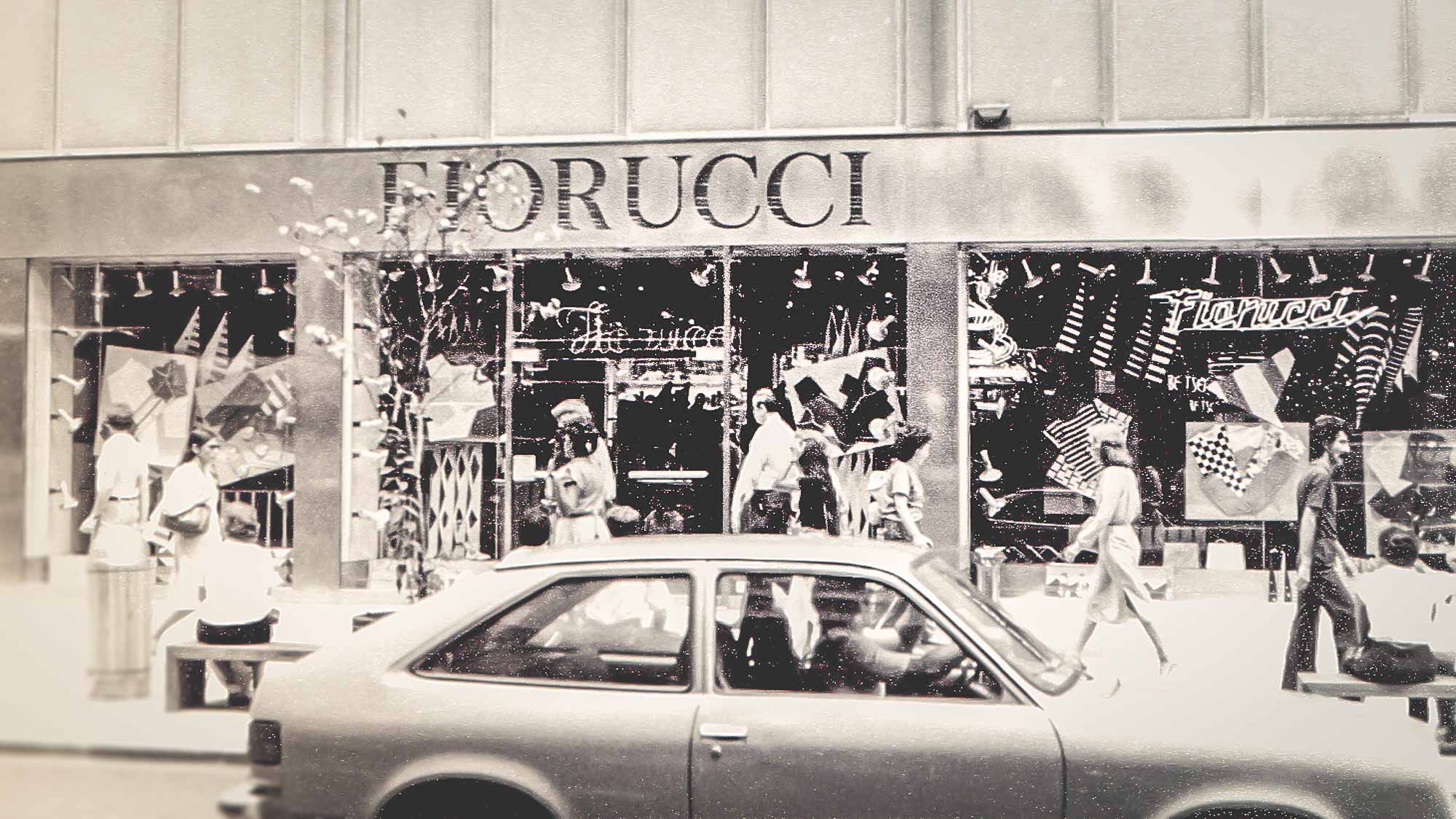 During the 60s Elio Fiorucci opened his memorable place in Galleria Passarella in Milan. It was not only a store, but also a venue for Milan's youngsters, and a concept store. It showcased artistic avant-garde and new fashion trends through apparel collections, accessories, perfumes, and unique design pieces, in tune with what was happening in cities like London and New York.
His endless research about styles and new expressive forms led him to the streets of the Big Apple. There, not only the noisy majesty of the skyscrapers struck him, but also the sober urgency of the graffiti, a political art that Fiorucci himself would describe as:
"A sign of humanity in a place where technology seemed to be getting the upper hand."
The king of the graffiti and street art during that time is, of course, Keith Haring. Thanks to the insights of his art director Tito Pastore, Elio decides to make contact with Keith to bring his debunking and contemporary art to Milan, where Elio wants to give Keith not only a job, but a pure art vision.
We are now in the 80s and Keith is already the star of "subway drawings;" his drawings animate the grey of New York's subway stations with life and energy. They take art outside of the museums to conquer public spaces, to identify new identities and new winds of change.
"Just like his friend and main colleague Andy Warhol, Keith is an artist with an endless desire to express himself."
Loving Fiorucci's work in Milan, Warhol convinces Haring to accept the offer and Fiorucci, after Haring's blessing, strips bare his 1,500 square meter store to set the stage for one of the most powerful events in the history of modern art.
Keith Haring and his 16-year-old talented protégé Angel Ortiz 'LA II' arrive in Milan in 1984 and are welcomed with strong interest: Fiorucci's idea is to give his city a memorable event, after all. A moment of pure astonishment and discovery was not only printed on his white walls, but also in the eyes of those who would watch the live performance awestruck.
Fiorucci's store remains open two nights and two days a week to allow everyone to admire Keith Haring in his element; while he is covering those walls with dogs, little men with misshapen heads, and radiant children.
"His performance, broadcasted live on Italian television, would be remembered as one of the most important expressions of 'urban' live art, still living inside Milanese people's memory."
The curiosity of these two minds, the curiosity of those nights of the Milan of the past, is the same curiosity that Milan still carries today. Art was not about money, instead, it represented a common vision of the world. And Keith and Elio had it.
Under the arches of Galleria Passarella today, two feelings come with every step of the way. First, nostalgia; second, awareness. Nostalgia for something magic yet invisible, and awareness that it is our duty to discover and tell those stories that are hidden in every corner of the city we walk in.
In 2003, Fiorucci's concept store in San Babila Square pulled the gate down for good, the same one that Fiorucci pulled up exactly 20 years before, and Haring's drawings were auctioned.
Present tense brutally becomes past tense, but those changing places are still alive and inhabit the common vision of these two lovers of beauty that made Milan, for a brief but significant moment, the heart of collective experimentation.
Opening photo by Anthony who? …an absolute nobody!, archive photo of Piazza San Babila, anni 60 di Milàn l'era inscì, and Urbanfile Fiorucci (1980) NYC by Shilpot; they're all from Flickr